RUBY CUP REVIEW | FIGHTING PERIOD POVERTY
The Ruby Cup is one of the most popular menstrual cups in Europe, much like the Diva Cup is in the U.S and Canada. This cup has been on our list to try for the last few months, and we finally had the opportunity to try it.
We review as many menstrual cups as possible, but we only have one period a month, and we want to provide our real experience, so each menstrual cup is used for several cycles.
Disclosure: "Please note that some of the links below may be affiliate links, and at no additional cost to you, I earn a commission if you make a purchase. Click here for the full disclosure statement." Also, as an Amazon Associate, I earn from qualifying purchases. Please see full Amazon disclosure at the bottom of the page
We received the Ruby Cup for free in exchange for our honest review. Trust me, all opinions of the cups we use are honest and based on our own experience. This Ruby Cup review is based on my personal experience using the menstrual cup for three cycles.
I usually try to use each cup for two cycles, but I couldn't get this cup inserted properly. I'm not sure if I was having an off-cycle, but I couldn't get it to open on the second trial cycle, so I tried again for another cycle. Don't worry, it was user error, as my cervix dropped, and I needed to use the small cup on different days than usual. I'll explain more below.
Unboxing RUBY CUP
When we received our Ruby Cup, it came in a plastic bag as opposed to in a box with the menstrual cup, a bag, and instructions. Unfortunately, our toddler got to the bag and ripped the instructions in a fun confetti party, so we couldn't get a picture of the packaging or included instructions.
RUBY CUP REVIEW STATS | SIZES
The most important step in switching to menstrual cups is finding the right menstrual cup size, firmness, capacity, activity, pelvic wall, and length for your body and menstrual flow.
The Ruby Cup is made with soft medical-grade silicone that is designed to last up to 10 years, with proper care and cleaning. You can leave the cup in for up to 8 hours, which means uninterrupted sleep. This is what I love about menstrual cups because I used to change my super plus tampon every 2-3 hours throughout the night, so I'd wake up at least twice. Honestly, this is one of the main reasons I switched to menstrual cups. I wanted to sleep through the night.
I was able to use the small and medium Ruby Cup for my cycle because my flow is light enough on day 1 and day 4 to justify a smaller menstrual cup. While most cups have a size small and large, the Ruby Cup comes in a small and medium.
Here is my review of the Ruby Cup using the small and medium.
Ruby Cup Small
Total Cup Length – 2.56″ (65 mm)
Cup Diameter – 1.57″ (40 mm)
Cup Length – 1.81″ (46 mm)
Stem Length – 0.75″ (19 mm)
Capacity to Rim – 24 ml
Cup Firmness – Soft
Rim Firmness – Medium
The Ruby Cup Small is best for a low to medium cervix with a light or medium flow. This doesn't mean if you have a low cervix and a heavy flow you can't use this size. If your cervix is low, but you have a heavy period you can use a small, but you'll need to empty your cup more often. Instead of every 8 hours, you may need to empty it every 4 hours, which is more convenient than changing a pad or tampon every 2 hours.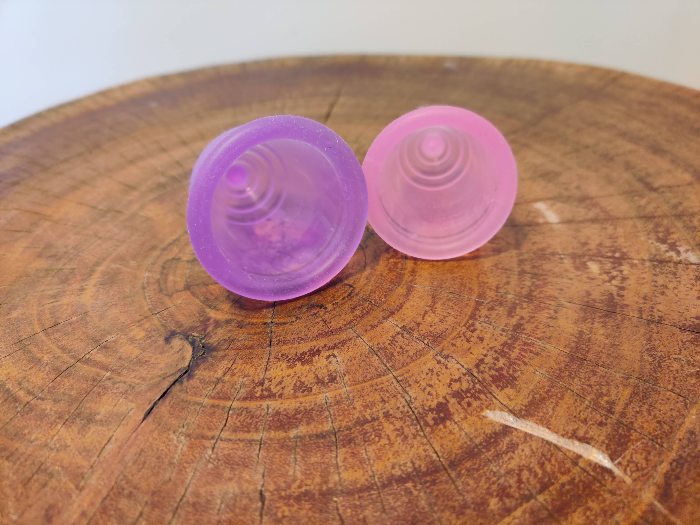 Ruby Cup Medium
Total Cup Length – 2.67″ (68 mm)
Cup Diameter – 1.77″ (45 mm)
Cup Length – 2.00″ (51 mm)
Stem Length – 0.67″ (17 mm)
Capacity to Rim – 34 ml
Cup Firmness – Soft
Rim Firmness – Medium
I used the Rub Cup Medium more than the small because my second and third day is pretty heavy, with a few clots. That may have been TMI, but this entire blog is TMI, so oh well.
In my opinion, the medium is more versatile of the two sizes. It is recommended to use the medium if you have a high cervix. If you do have a high cervix, your flow wouldn't determine the size because you'll need the longer cup. You don't want a short cup with a high cervix; removing it will be a nightmare.
If you have a low cervix and a very heavy flow with lots of clots, you can use a medium cup, but you may need to cup the stem. Don't worry, it should still be comfortable, and you can remove it without the stem.
RUBY CUP: PROS AND CONS
I always like to provide pros and cons to every product that we review so our readers can get a better idea of what we did and did not like, about a particular product. Our reviews are based on our preference and experience, so keep in mind what works for one person may not work for another.
Ruby Cup: Pros
Firmness – I like softer cups, so this is a pro for me, but I am sure it is considered a con for other people.
Thick Flexible Stem – I like that it is thick and flexible, it makes finding the cup inside my vagina easier.
Grip Rings – I use the grips to squeeze the cup to release the seal. I think they make removing your menstrual cup easier.
Money-Back Guarantee – The 120-day money-back guarantee lets you buy with confidence that if you don't have the right fit, you can exchange or get your money back.
Ruby Cup: Cons
Cleaning – The textured scale inside the cup requires more thorough cleaning than other cups.
Shipping – Since the company is based in Europe, shipping does take some time to get to the U.S.
Availability – I'd love it if this product was available on Amazon.
Funny Airport Mishap
We are open and honest about our experience with each cup we review, even the embarrassing moments, so you know you aren't alone. At this point, I am no longer embarrassed about my oops moments. They are funny and hopefully will help you gain the confidence you need to give menstrual cups a try. Check out my embarrassing moment at Walmart with the FemmyCycle Cup.
Despite what other menstrual cup bloggers may say, everyone has accidents sometimes, and every once and a while, you'll get a leak usually from user error, but it's not the end of the world.
With all of that being said, here is my embarrassing with the Ruby Cup.
It was early on a Tuesday morning; I remember the day because it was the day we moved to Playa Del Carmen, Mexico after I lost my job (my position was eliminated due to budget cuts).
My period started three days before our scheduled departure (inconvenient timing, but isn't it always), and I was feeling good about my experience with the Ruby Cup so far. I decided to insert the menstrual cup later that night to avoid emptying it before heading to the airport. That would get me 12 hours before I needed to empty it again. I know it is recommended to empty the cup every 8 hours, but my flow was pretty light.
The next morning I got up, and everything was great. The day was going great until it was time to empty and reinsert the cup in the airplane lavatory. I tried a few times to insert the menstrual cup unsuccessfully. When inserting menstrual cups I like having a lot of space to squat low, to get the best position. After trying for upwards of 5 minutes, I got the cup in and thought everything was good. I would soon realize everything was not good.
Lost Cup
After almost an hour, I could feel the menstrual cup leaking, so I rushed back to the lavatory to check. I didn't push the cup up far enough, and it was hanging out of my vagina. For almost ten minutes, I messed around with the cup until I finally gave up. After giving up, I decided I didn't need a cup since my period was ending, and my flow was light. I rinsed the cup in water, wiped it with a paper towel, and threw the paper towel away.
At the time, I didn't realize I threw away my Ruby Cup with the paper towel. When I got back to my seat, I searched my pockets for the menstrual cup, and the first thing that came to mind was damn, I flushed my menstrual cup down the toilet. After replaying the events in my head, I realized I wrapped the cup in the paper towel and threw it away. I had to go back to the lavatory and search the trash to find the Ruby Cup.
As you could imagine, this was not a fun experience, but it makes for a funny story. On the plus side, I didn't flush it down the toilet, so that's a win lol.
Who should use the Ruby Cup?
There are many factors to determine the best menstrual cup for you. I can say the different factors that Ruby Cup offers that may be a good fit for you.
The Ruby is is soft, so if you have weak pelvic muscles, it may be a good fit for you, especially women who have given birth and have a light to medium flow. Also, menstruators with a medium/average cervix may find this cup fits them.
I was able to use both sizes, but that may not be the case for everyone. If you aren't sure which size works for you, I recommend getting both and using their money-back guarantee to exchange the size that you don't need.
RUBY CUP OVERALL EXPERIENCE
Overall, I had a good experience with the Ruby Cup, despite the rough start. I tried it for my first cycle, and everything was perfect.
The second cycle was difficult. For some reason, I couldn't get the cup to open completely, and suction. When I finally did get it open, it suctioned to my cervix, and it was the worse pain I have ever felt. It was worse than my contractions while I was in labor.
If you learn anything from my experience, it is not to push your menstrual cup so far up that it suctions to your cervix. It will be VERY painful.
I believe part of the problem was the different folds I was trying. When I insert my menstrual cup, I usually use the tulip fold, but I was experimenting with different folds this cycle, and it didn't go well. I think I've learned my lesson and will stick to what works for me.
The third cycle using the Ruby Cup was perfect. I was able to insert it, and it suctioned perfectly with no problems. The only problem I had was the airport fiasco, which was a lesson learned. You have to be patient with yourself because there is a learning curve when using menstrual cups. Just take your time, and if something doesn't feel right, take it out and try again. After some time, you'll be a menstrual cup guru.
Money-Back Guarantee
I love companies that stand behind their products with a money-back guarantee. This often isn't the case for intimate products such as menstrual cups. They offer a 120-day money-back guarantee if you believe the cup isn't the right size or fit.
You can also exchange sizes if you purchased a double pack, and one size doesn't fit the way you like. Remember to review their return policy for your hassle-free return.
Fighting Against Period Poverty
A topic that should be discussed more in our society is period poverty. In the most simple terms, period poverty is the lack of access to feminine hygiene products like tampons, pads, menstrual cups, etc.
There are menstruators around the world who do not have access to the products they need to work and pursue their education. Imagine missing work or school for a week every month because of your period. This is what many young menstruators are experiencing because of the lack of products.
Ruby Cup is doing its part to combat period poverty by donating a cup for every cup that is purchased. You can help by donating a cup to someone in need, for as little as $20. They are empowering menstruators around the world to become more educated about their period and bodies.